RUSSO AND STEELE EXCEEDS 20 MILLION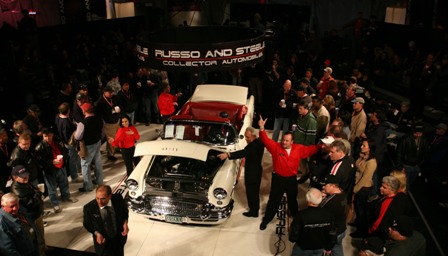 Scottsdale, AZ. -- Russo and Steele Collector Automobile Auction has once again proven why it has become one of the "Big Three" premier auctions. The action-filled auction block lived up to its reputation by breaking two records and reaching the million dollar mark with one individual sale: a 1969 Shelby GT 500 (consignment #6627) for $451,000, a 1965 Shelby GT350 (consignment 6758) for $358,600, and the 1969 Shelby Daytona Coupe 427 for $1,320,000. January 2007 was by far their best auction yet!
Lot 6627 a Black Jade 1969 Shelby GT500 Convertible "Drag Pac 4-speed" clearly showed results of 4 year restoration. Full documentation & SAAC's highest judging score for its type = winning bid $451,000.
Lot 6758 the most perfect '65 GT350 we've ever seen! An early build (#166 of 521 made) & concours quality restoration lead to spirited bidding & sale @ $358,600.
Lot 6887 Shelby American Type 65 Daytona Coupe. Pete Brock redesigned his 289 Daytona Coupe on the new 427 Cobra chassis. This Shelby "Super Coupe" was the result. Built to achieve 215 mph at LeMans, it never got the chance as Henry Ford II & Carroll Shelby pulled out all stops to beat Ferrari with the Ford GT40. The Type 65 remains a one-off & was well bought @ $1,320,000.


This event marked Russo and Steele's seventh consecutive appearance in Scottsdale, Arizona. Their total sales figures ended up exceeding the $20,000,000.00 mark. Furthermore, Russo and Steele had a 65% sales rate.

Now Russo and Steele's individual automobile results are available. For the more details please click on the link below.